Injectable treatments

We offer a range of injectable treatments for various aesthetic concerns. Watch Dr Martin's video to learn more about ethical muscle relaxant, dermal filler and sclerotherapy treatments.




Botulinum toxin



Botulinum toxin is a common treatment to reduce the appearance of wrinkles in areas such as the corners of the eyes, forehead, between the eyebrows and to combat 'laughter lines'. This is also a common treatment to reduce sweating.

The botulinum toxin (type A) is injected into the affected area which paralyses the targeted muscle group(s) by interrupting the transmission of nerve signals. This decreased muscle movement has the effect of smoothing the appearance of the skin and reducing wrinkles. It may also be used in some cases pre-emptively to prevent the formation of wrinkles.

The most commonly used brand of botulinum toxin type A is BOTOX® although there are others available such as Dysport®.



Results



The treatment is relatively painless and may cause only a minimal swelling in the area which normally resolves within 24 hours, and less frequently mild bruising. One normally sees results within 5-7 days and these should last for 3-6 months. After several treatments the effect normally lasts longer, usually closer to the 6 month mark.

In order to retain the maximal range of facial expression, Dr Martin will always use the smallest quantity needed to gain the desired effect but not enough to cause the totally paralysed look the treatment can sometimes give. The untreated facial muscles will be totally unaffected and have a normal range of movement.



Potential side effects



There are some very rare side effects, all of which will be discussed with you at your consultation and which include:

Ptosis – a drooping of the eyelid or eyebrow
A mild headache
Prices





Normal price:


1 area £150 e.g. frown lines
2 areas £200 e.g. frown lines and 'laughter lines'
3 areas £250 e.g. frown lines, 'laughter lines' and forehead lines.



20% off when booked 1 month in advance:


1 area £120 e.g. frown lines
2 areas £160 e.g. frown lines and 'laughter lines'
3 areas £200 e.g. frown lines, 'laughter lines' and forehead lines.



Dermal fillers



Dr Martin chooses from a range of fillers those which are predictable, with proven efficacy and safety. For these reasons permanent fillers are not offered.
Dermal fillers add volume to the skin and are often used for lip augmentation as well as on other areas of the face, décolletage and even the backs of hands to replenish lost volume.
The most appropriate type of filler for your needs will be assessed during your consultation when the full details and price will be discussed with you.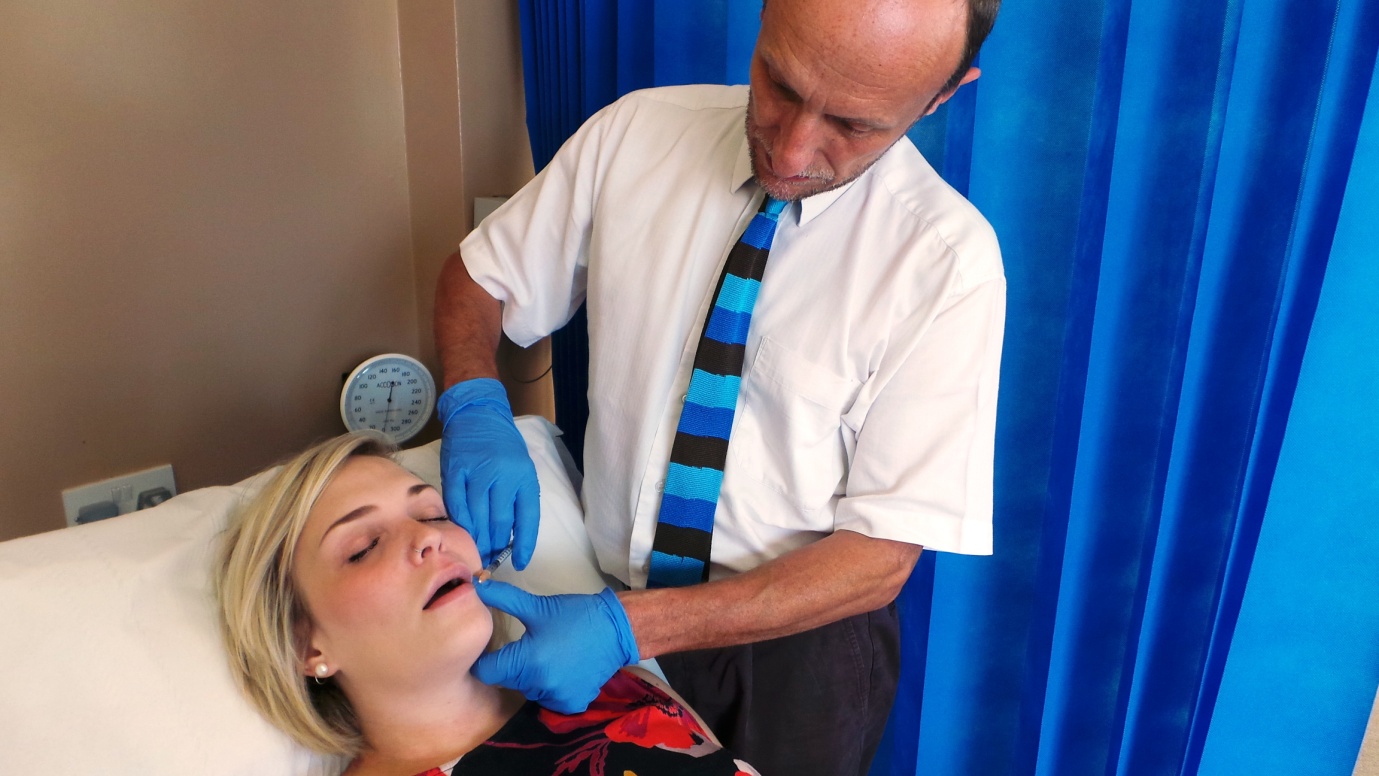 Sclerotherapy



Sclerotherapy can be used to treat unwanted thread veins (small red veins) and small varicose veins. This is a procedure which has been used for over 150 years and enjoys great results. A sclerosant is injected into the vein via a tiny needle which causes the collapse of the vein. Sclerotherapy also usually collapses the feeder veins which are causing the smaller thread veins, reducing the instance of recurrence. For this reason it is the most effective treatment for thread veins, especially on the legs.



Results



Most people will see an improvement after just one treatment but depending on the number and size of the thread veins you may need more sessions to get the desired result.



Potential side effects



While side effects are rare there are a few possible complications risks such as:

Temporary skin pigmentation – this usually fades soon after treatment.
Skin irritation at injection site which can cause some scabbing.
Allergic reaction to sclerosant – extremely rarely.
While the possibility of complications can never be entirely ruled out, all treatments are performed in generous time slots and the utmost care is always taken to minimise these chances.



Prices



Treatment up to 30 minutes: £160.